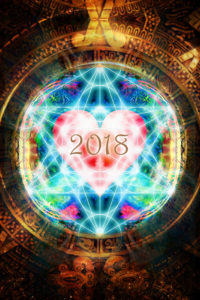 It seems that humans are hard-wired to start the calendar year with a clean slate of intentions for the coming year.
According to History.com, the practice of making resolutions began with the ancient Babylonians, some 4000 years ago, who made promises in order to earn the favor of the gods and start the year on the right foot.
Contrary to their intended purpose, new year resolutions often leave us feeling defeated.
This year you can trade in your resolution for a more healing and uplifting ritual designed to lovingly guide you through 2018.
New Year Hoops of Life Divination Reading
with a mini-healing bonus!
This Hoops of Life Divination (HoLD) Reading offers you a high-level, 4-season view of the landscape of your coming year. The HoLD method allows me to access messages that come forth from your core energies and interpret how you can use them to navigate through the year with greater ease, direction and sense of purpose.
As with all HoLD readings it is your energy and your healing needs that set the course and reveal the sacred attention your spirit craves.
This special, new year reading culminates with a customized mini-healing (a $30 value!)
New  Year Hoops of Life Divination Reading with complimentary mini-healing!
(a $175 value for just $145)